Netflix's Eurovision film has already premiered and we've seen it. "Eurovision Song Contest: The Story of Fire Saga" is a film full of stereotypes about the European competition and that has not gathered, like any comedy, a consensus, especially among fans.
With a rating of 6.7 / 10 on imdb, Will Ferrell's film ranks 30 in the most popular films on this platform specializing in cinema (28/6/2020). If for some it is "Will Ferrell's Best Comedy in Years" (David Sims, Atlantic) for others it is "The Real Eurovision Is As Absurd and Entertaining As Any Will Ferrell Movie" (Dave Holmes, Esquire). For David Rooney of Hollywood Reporter" the movie's obvious love for the bizarre excesses of Eurovision, and the fun it has with them, make you wish the filmmakers could have condensed all the messy plot padding and just harnessed the excitement of the show. "
But let's not mix things up, this film must be analyzed as a comedy film on the one hand, and on the other as a Eurovision film. Let's analyze it one by one, in our opinion.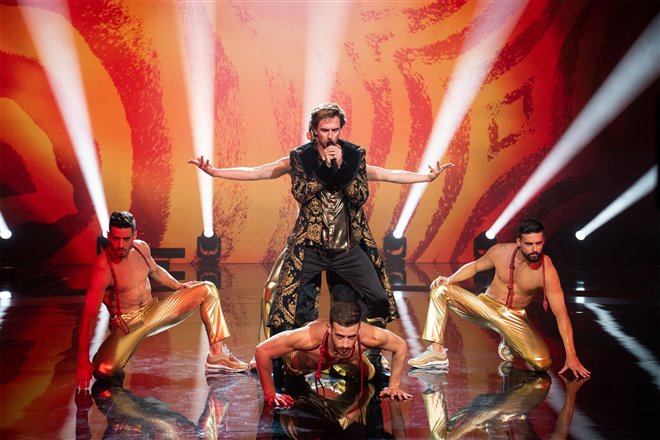 The film:
It is a typical comedy by Will Ferrell, with many jokes and hilarious moments like the performance of the band Fire Saga in the semifinal - this is the highlight. It is a love story as it happens in almost all films that could take place in any other context and not in the Eurovision environment.
To be able to bring together a range of good actors like Pierce Brosnan or the always charming, and perhaps the best performance in this film, by Rachel McAdams is an indisputable feat. The best of Icelandic cinema is present in the film, with renowned actors such as Ólafur Darri Ólafsson or Björn Hlynur Haraldsson.
The excess of jokes about the male organ is something that Will Ferrell should say enough. All that is too much ...
About Eurovision:
It is very important to highlight the perception that Will Ferrell had about Eurovision. His reading of the event is very actual, especially in what Eurovision has become. For those who enjoy Eurovision and for those fans who like to laugh with Eurovision, with its artists and who don't take it too seriously, they will love the movie, specially the new fans. For the more conventional fan, who lived Eurovision with an orchestra, seriously, with a sense of voting, the seriousness of the songs, culture and languages, the offense will be big.
But it is clear that this is a comedy film and Will Ferrell managed to enjoy it, especially, and we say again, what Eurovision has become. For those who are not fans of Eurovision and for those who do not take it seriously and just do zapping, the portrait of Eurovision is reliable.
First, the ridicule of some songs and performers led to exaggeration. The Greek singer and especially Dan Stevens, take their roles to the extreme managing to ridicule songs that ... hey! do not take offense, we have already had a lot like that in Eurovision.
Something extraordinary that Will managed to portray was the backstage game of Eurovision, from the countries that do not want to win and what they do for not winning until the promotion and even those that already knows they will win, like te russian singer. About the promotion maybe Will didn't get the point well, as well, about the Eurovision fans. But having the support of EBU, it was perhaps better as a way of flirting the United States and finally taking Eurovision to the other side of the Atlantic. The Eurovision fan is portrayed by the character of Will Ferrell who dreams of Eurovision and who creates a world of escape around this dream. How many fans don't live for Eurovision and make it their life? The gay bond is also subtly portrayed through the Russian character, where criticism of Moscow's policies on homosexuality is made. We say subtle because it could have been much more aggressive and thankfully it wasn't.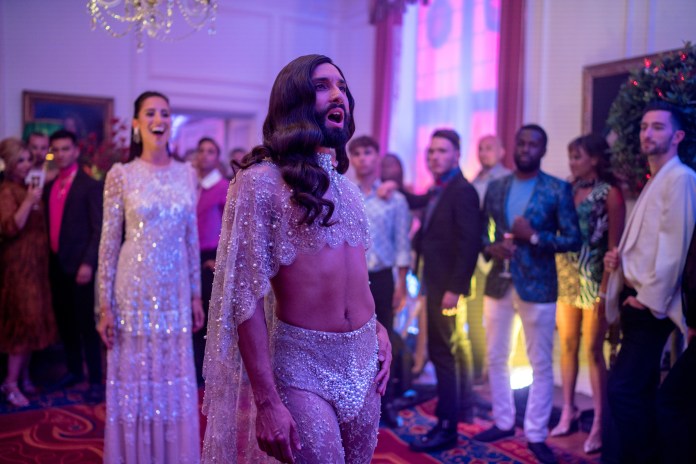 Fiction interpreters join some real interpreters in the film, curiously Eurovision icons like Netta or Conchita who are suitable for this Eurovision joke attempt, if we think about the common viewer who sees the program. It is not clear whether Eurovision can be taken seriously through this film or whether it helps to ridicule its role. Think of those who don't know these Eurovision winners and characters. They will certainly think that they are some more to enjoy. Perhaps Salvador Sobral's most serious performance may have been an attempt not to ridicule the event, even so, for those who do not know him, he will think that the music of a simple street musician is better than that of Eurovision even though he has been a song that won the contest. After all, not all Eurovision performances are ridiculous, they don't have choreographies or multi lights and fire. Perhaps some fans now understand why Sobral said "music is not firework". For the common viewer, Eurovision has become that.
Anyway, congratulations to Ferrell for the film that makes us laugh. But it won't be too much if everyone has a Eurofan by their side to demystify some of the things that go on in the film.