Why is Australia at the Eurovision? - This question is answered by the EBU with the 30 years tradition of Australia with the contest and the passion of the australians for the contest.But what does that mean and how does it look like? Eurovision on top had the unique opportunity to meet an amazing family from Australia, who made the way from Australia to Stockholm and remind the rest of Europe about what the contest (should) mean(s).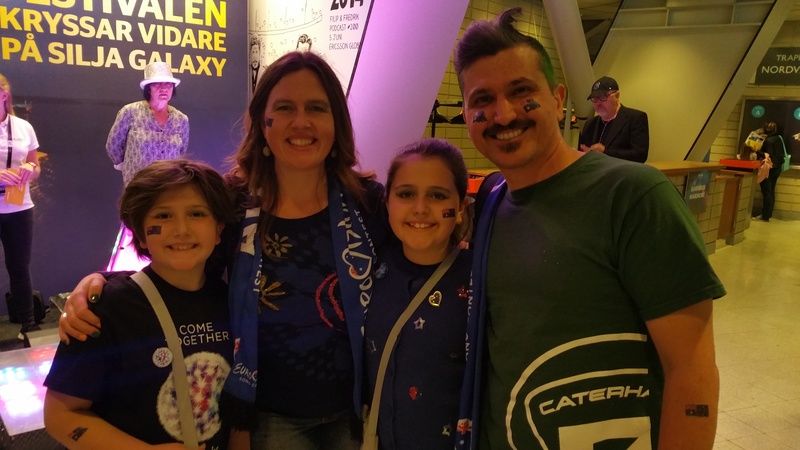 Read now a short interview we had with this family and get to know what the Eurovision is from an Australian point of view.
1. First of all, who are you?
We are Bruno 42, Cindy 42, Katija 11 and Lysiane 9. We come from the Adelaide hills, a quiet cherry, grape and apple growing region 30 minutes from the Centre of Adelaide, South Australia. Cindy and I both work in public health and the girls are at school. We play lots of soccer and Katija plays the piano. I love working on old cars and mess around with digital music. Cindy is a knitter and loves cooking. Lysiane is a very strong soccer player. We love playing board games together.
2. What is your link to eurovision?
Our link to eurovision stems from our multicultural heritage. Both of my parents were born in Italy migrated as teenagers in 1960 to australia. Cindy's mother is australian but father left Slovenia in the 1950's. I grew up listening to older Italian music, as Italian culture in australia is preserved from the 1950's. I was surprised at how different italian culture is now compared to what we practice in australia! My parents enjoyed the eurovision telecasts in the 70's and 80's sporadically,but it was never accessible. Cindy and I watched eurovision a lot from 1995,but never seriously. I listened to a lot of electronic music and Cindy alternative. Once our children came along it completely changed things. Both of our children absolutely love it and it has become a religion to them. It provide us with a fresh set of music every 12 months and exposes us to both culturally diverse and different forms of music that we would never even dream of listening to. It becomes or anthem for 12 months.
3. Why did you have that "wish" once to come to eurovision?
It went on our bucket list about 5 years ago in a New Zealand airport lounge when my girls were watching the Dvd. A stranger came up to us and immediately introduced himself as having been to a semifinal performance on a few occasions. He told
us how it could be done. We were entranced. We realized it was something we could work towards when the girls were the right age and that it would be the experience of a lifetime. The colour, drama and experience that we would associate with actually being here would add another layer to our 12 months of music listening! It is just so exciting and we are privileged to be here!
4. How would you describe the image of Eurovision in Australia?
Eurovision is polarising. Australia has its roots in Europe and it provides a link for those with a past. But it also has strong australian followers. So it is very well known thanks to some great commentating from Sam and Julia (we love them! ) and it's transmission. It has now become a strong reason to party and in every city there are now many Eurovision parties. Every year we get together with a few other families and on a Saturday after lunch watch the semifinals before watching the finals quasi live. We dress up as our favourite nation from the last year and prepare a traditional dinner from the host nation...so we ate swedish meatballs just a few years ago! We play eurovision bingo, have assigned countries according to our heritage and vote for our winners. Many australians do it this way!
5. How did you prepared and planned your trip?
The hardest thing was getting tickets. Because we wanted the family show we felt it was easier. The televised events are too late for the kids. We were online in the waiting room when it opened and the minute the tickets were released we tried to book them. It took a lot of sweat and tears as the bookings kept dropping out before we could confirm them. It was not fun but we got there! We flew into Italy first to see family and expected it to be easy to get flights from Pisa to Stockholm. Unfortunately the flights were fully booked so decided to go to Goteburg then train it across to Stockholm. We fly back to Pisa 3 days after the show. The accommodation was difficult as all the hotels were full or way to expensive (including air bnb!). So we booked two rooms in a motel. For fun we checked out airbnb a week ago and found that apartment prices had dropped significantly thus were very lucky to find an affordable place a lot closer. When we went to book the train (we assumed it would be like Italy) found that it was fully booked up for the day we need to travel. The flights were also fully booked...hence we managed to find a seat on the bus from goteburg...7 hours! But we are here and really happy!
6. What are the things you like the most about eurovision?
It relates to the exposure to the unexpected. The showmanship and cultural pride. Understanding other points of view. And it all happens in a positive nature. It opens our minds to other forms of music and helps us understand what we like and don't like, and that other people like different things, and that's ok! I don't like how it is becoming an english song competition but really appreciate the countries that sing a few phrases in english so i understand! For this reason i love Greece France Italy....but B and H really empower to me what eurovision is about. .singing proud for your country and your people celebrating your differences.
7. What was absolutly as you expected them to be?
The many and colourful people we have met who support the show. Eurovision attracts nice people. Not many events can boast this. We love the celebrations outside the arena and the acceptance of the people of the fun of it all. I love how a lot of it is free and accessible. I was surprised that the family shows did not have more people. Maybe they are charging to much? It really should be full given the experience it provides!
8. But have been the most exciting things you didn't expect to be how they have been?
The most exciting things were seeing the artists on the street and at the village stage. We love the people in the eurovision village as they are all so friendly and open. We loved seeing artists from older years singing (Roberto Bellarosa especially) their songs. I almost feel they don't do this enough! We are super excited to be able to support australia!
9. How is it for your two girls to live the contest?
Katija: it is really cool to see them in real life and to see the big reveals and watch the scene changes between the songs. You get to see all of the party and celebrations all around whereas in australia it is mostly in houses.
Lysiane: get to see it in real life. To see the inside and not have to look at where the cameras are. You can be louder in the show. You get to see the scene changes. It is great to see the hosts in real life (Petra and Mars) and you could wave to them! You can also see the green room where the contestants will sit.
10. What will you tell your family and friends when you are back in Australia about Eurovision?
Most of them think we are crazy so we won't say much. ..hehehe. ..really we will tell them how lucky we have been for everything to have worked out how it has. How it is warm and happy to be around. How it is a once in a lifetime thing that has great value in understanding different cultures and people. And the music is great too! It is just great fun!
We thank Cindy and Bruno for the interview and wish this family an unique experience and we are really happy to have Australia joining this contest, with the artists and with this people.
Pedro de Almeida