In 2008, Nana Mouskouri gave two legendary farewell concerts in Athens. But if you're born to sing, you can never really say goodbye to your audience! After The Happy Birthday Tour in 2014 and 2015 she returns with thw Forever young tour.
If you are a young eurovision fan you won't certainly remember but Nana represented Luxembourg in 1963 with the mega hit "A force de prier".
During the Forever Young Tour she lends her voice to the songs of her musical friends and mentors Manos Hadjdakis, Nikos Gatsos, Michel Legrand, Quincy Jones, Bob Dylan, Leonard Cohen, Bobby Scott, Simon & Garfunkel, Serge Gainsbourg, Claude Lemesle, Mark Knopfler Tony Visconti, Serge Lama, Joni Mitchell, Francis Cabrel ... and many others.
Nana Mouskouri in 1961 broke through internationally with "Weisse Rosen Aus Athen ', which was released in several languages which has sold over 1 million units. In the next 50 years, the singer scored with a nearly unchanged appearance - straight hair and a dark square glasses - many hits such as "The Three Bells (Les Trois Cloches) ',' Quand Tu Chantes ',' Mon Enfant" and of course " only Love ".
They sold worldwide is estimated that more than 350 million albums and received 300 gold and platinum records. She thus belongs to the top of the best-selling artists ever.
While representatives are keeping tight-lipped, reports have been circulating on the Internet. There have been strong rumors that the singer is finally returning to the recording studio working on a what might be a back-to-roots album.

Greek Nana Mouskouri began at a young age as a jazz singer, but soon grew into the largest musical export product of her country. She sang in a variety of styles, from jazz to pop, cabaret, classical, opera to pure folk songs. Greece was too small and Mouskouri left for Paris. After crossing to New York fell America and the rest of the world in love with her voice.
Concerts:
25/01/2018 – CALUIRE ET CUIRE (LYON) (69) – Radiant-Bellevue
04/02/2018 – LUXEMBOURG (L) – Philharmonie de Luxembourg
18/02/2018 – OSTENDE (BE)
25/02/2018 – FLORANGE (57) – La Passerelle
​04/03/2018 – HERNING (DK) – Herning Kongres Center
08/03/2018 – PARIS (75) – Salle Pleyel
10/03/2018 – MONTREUX (CH)
12/03/2018 – LUCERNE (CH) – KKL Luzerne
14/03/2018 – TOULOUSE (31)
16/03/2018 – BORDEAUX (33) – Théatre ​Barrière
22/03/2018 – VERNON (27) – Centre Culturel Guy Gambu
24/03/2018 – LILLE (59)
25/03/2018 – ENGHIEN-LES-BAINS (95) – Théâtre Barrière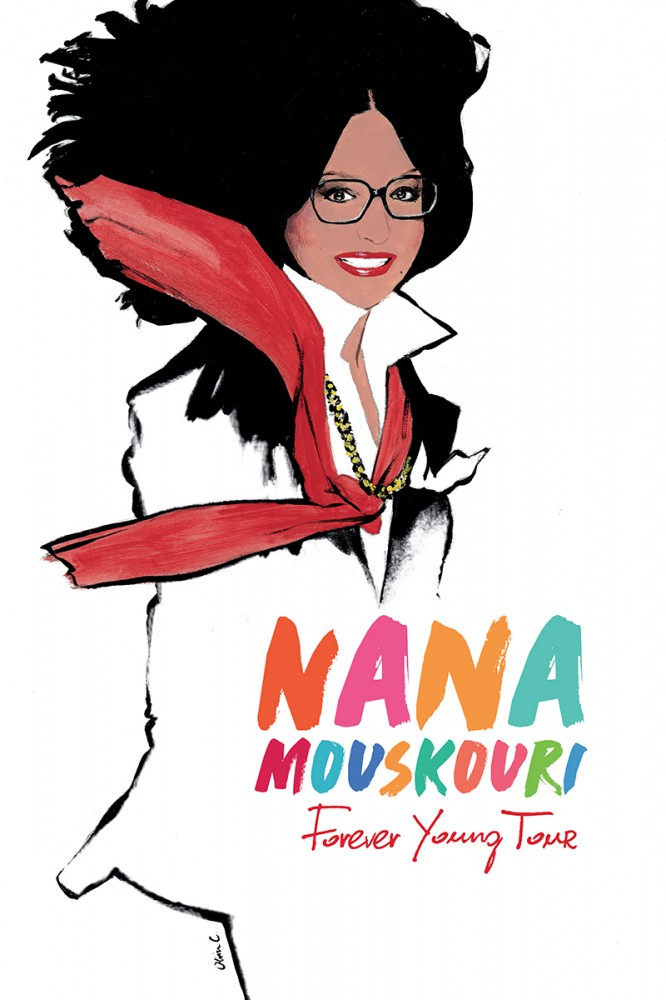 source: ultratop