It would be nice to see the world knowing some songs written by myself

Ott Lepland represented Estonia in the ESC 2012 with "Kuula" but there is long a past behind it and an extremely successful career after it.
In 2014 Ott Lepland spent 12 weeks at the top of the weekly chart "EOT- TOP 20" with his hit single "Jäädagi nii". Our chart is online since 2009 and to date no-one has beaten this record.
All this justifies our exclusive interview where we discuss Music, Eurovision, competitions, not forgetting... Queen, Elton John, Birgit Õigemeel and Tanel Padar.
1. Let's start this interview talking about... you. The Full House Agency website has a little biography about Ott Lepland in which it is possible to read "He is not a show-off (...) he may be a little reserved". So beyond the music, the competitions, the records, the live performances, who is Ott Lepland?
Ott Lepland is a regular guy, who by working and having good influences around him, has the chance to do things in life he enjoys the most – music. I'm Grateful, that i have the chance to combine my hobby and work and make a living out of the thing that i love the most in my life - music!
2. You became most known outside Estonia because of the Eurovision Song Contest 2012. But you already had a long and victorious path before it. After Baku you have continued to accumulate a lot of prizes. Aren't you afraid of getting used to win and forget the importance of each and every new prize?
Although it might seem that everything comes really easy, it is not actually so. And as for winning different prizes – it is always good to see that people care about what you do and recognize you for it. But in all honesty – more important than any industry award, it's always more awarding when after a show someone comes to you and tells you that your show, song or performance has touched them. And that is the real award actually.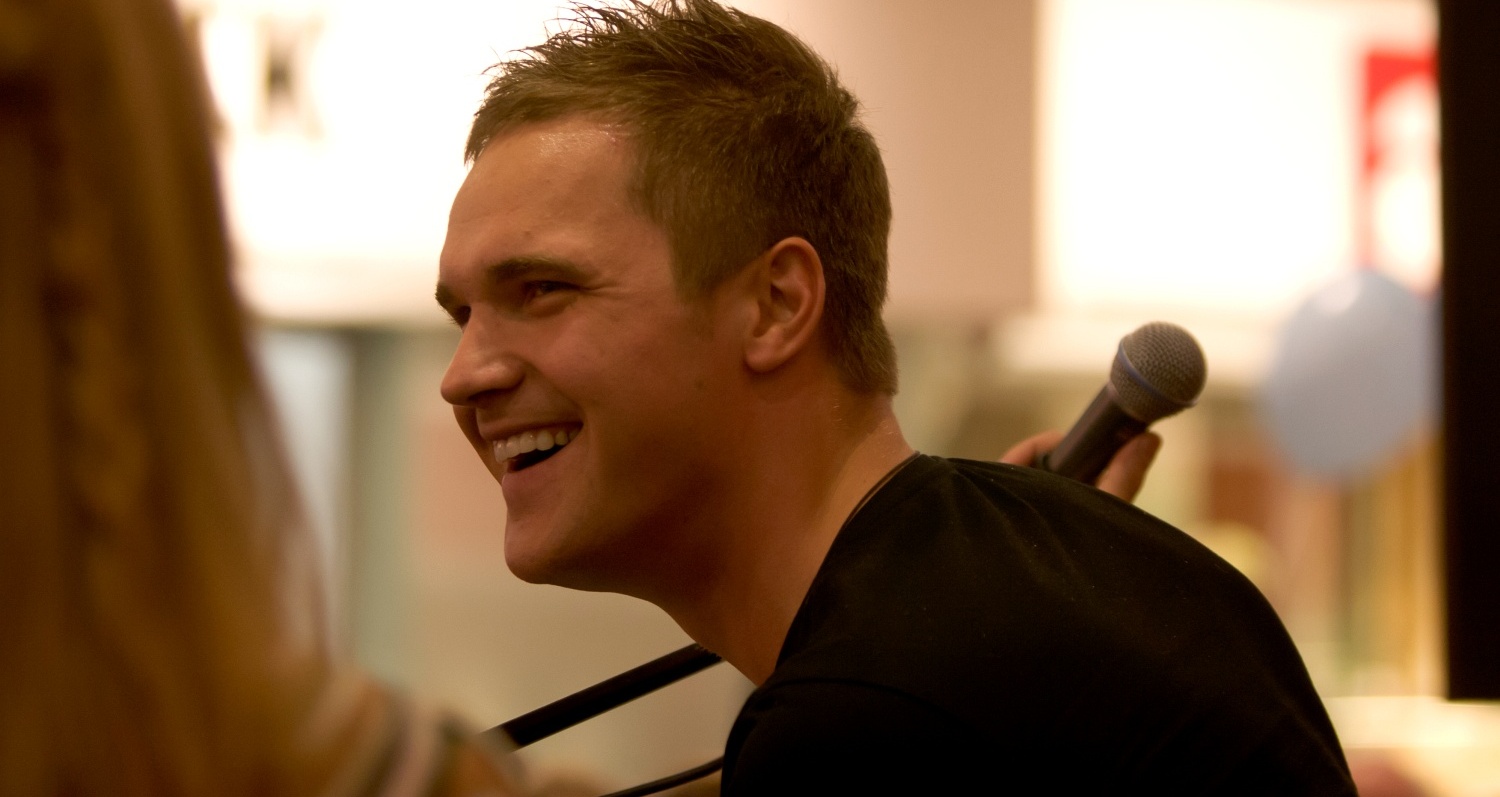 3. "Kuula" can be seen as your international breakthrough. How did the Eurovision journey begin for you?
It was not a dream as such, more of a thought. Of course, I have been watching Eurovision since I was a little kid (it has always been very popular in Estonia) and remember thinking to myself - How would it feel to represent my country in Eurovision? Well now I know!
The Song just came to me, at a rehearsal room. It was ready before I even knew it myself – the birth of the song was really natural. My vocal coach –Maiken, encouraged me to take part in the competition. It wasn't that I went to the contest thinking, that I have to win. Life it just took its course, and I won ( The Estonian pre-contest for Eurovision). And the rest is history from that point on, so to say. I'm very pleased and thankful for the 6-th place i got! It was more than i could ever wish for! Honestly!
4. "Kuula" was also composed by yourself. Was that important to enter the competition with a song composed by yourself?
It's very important that you take part of the competition with the song that you've written yourself. Because then you can put more emotion to it, cause you are the only one who knows why and how the song was born and what's it really about! But of course, if someone came to me with a ingenious song, i'd definitely consider participating. But i prefer my own songs!
5. Almost 3 years after Eurovision, what do you recall from your performance. What is was like to represent your nation, Estonia, in a distant country like Azerbaijan, singing a song in Estonian composed by yourself in a competition which broadcast for the whole world?
I recall of being very calm. I was more nervous in "Eesti Laul" (Estonian Eurovision pre-contest) than I was in Baku. It's strange and I still don't know why I felt so, but I'm glad I did. Of course, representing your country and nation in such an important contest , is a very big thing and I must say, I felt reverence towards this competition, but I'm still glad, I participated and suggest it to all of my colleagues around the world!
6. Most of the people both in the Arena in Baku and all over the world didn't understand a single word of what you sang but millions of people were conquered by the emotions you delivered in your heartfelt performance. You have also recorded other versions of "Kuula", more precisely in English, Russian and Spanish. Was it easy to sing with the same feeling?
I always put my whole soul to any performance – either it's to 5 people or to 5 million. As for different languages - Spanish and Russian were more difficult because I'm not fluent in these languages. It sounded good in Spanish and Russian too but I must say that the real spirit of the song comes out only in Estonian. At least for me. Because it was born in Estonian and you can't change something if it was born this way! And I must say if someone likes to sing it in Portuguese, if it makes him/her feel good, then let them do it!
It's all about the good feeling and emotion that you get from singing this song! It's all that matters!
7. Along with Finland, Estonia has the most interesting National selection for the Eurovision, allowing us to see genres that we are not used to see in other National finals, not even in Eurovision, Winny Puhh or Super Hot Cosmos Blues Band come to mind. As an Estonian artist how do you explain the apparent fascination of Eurovision for a big diversity of artists in your country?
In Estonia the contest is called Eesti Laul (The Estonian Song) and the aim is to discover new music. And then the winner gets to go to the Eurovision. As the angle is a bit different, maybe that's the reason why the participants are more diverse than in other countries. Like I already said, "Eesti Laul" and Eurovision are very popular in Estonia and many different people with different musical tastes watch these two shows. So that's why the variety of opinions are so wide!
8. Now let's talk about another competition. Maybe a lighter one but once more extremely popular all over the world, "You Face Sounds Familiar", in which you had the opportunity to explore different aspects of your vocal skills. I confess that I was quite impressed by "Candle in the wind" which I think is not that far from the essence of your latest album "Öö Mu Kannul Käib". This leads me to following question: which worldwide famous song you would wish it was your own composition?
UMM…It's a very difficult question! But I must say:
Queen - Who want's to live forever (by Brian May)
Sarah McLachlan - In the arms of an Angel
But of course there are many good songs. It would be nice to see the world knowing some songs actually written by myself someday! But, It's just a dream.
9. You have a side project together with Tanel Padar and Jalmar Vabarna named Vallatud Vestid. Can you tell us a lit bit more about Vallatud Vestid and how it helps you to complete you as an artist?
Vallatud Vestid is the most fun project I've ever had the honor to be in. It's me, Tanel and Jalmar performing each-others songs and some of our original material as well. It certainly helps me to be a more diverse artist, as other ways I wouldnt have too much of possibility to sing folkish songs, let's say.
10. Besides Tanel Padar you also work a lot with another face who is pretty familiar for the Eurovision Community, Birgit Õigemeel. So the question is, so far and as an artist what did you learn from Tanel and from Birgit and what do you think that Tanel and Birgit have learned from you. (Please, don't say "You have to ask them"
).
You have to ask them
I mean it!
I haven't asked them!
But there is always something to learn from Tanel – for instance from his enormous devotion to things he does. And his ability to focus to things at hand. And Birgit is just a fantastic singer. There's always something to learn from listening both of them!
11. I confess that 2 years ago I listened carefully to the album "Laulan ma sind". At that time I just knew "Kuula" and having "Kuula" as a reference the whole album came as a personal disappointment. In a space of one year you released "Öö Mu Kannul Käib" which completely blew me away being the album I was expecting to listen to from the guy who sang with his heart in Baku 2 years ago. Somehow as a composer do you do you feel or do you agree with that huge difference I'm talking about between the two albums?
As people get older, their music changes. The core is still the same, and always will be, but nuances change with age, the surroundings. That pretty much is always how it's been, and how always will be. "Laulan ma Sind" is purely a pop-album and half of the songs were Not written by me! Now "ÖÖ mu kannul käib" is an author - album were I have written most of the songs. So I know what you mean!
Like I said before, if you truly know what the songs are about, you sing them differently than the songs you haven't written yourself. And that's why you have more access to peoples souls if you know, what you are singing about and how the song was born. So there's definitely a difference!
12. I go a step further and I'm pretty convinced that "Öö Mu Kannul Käib" is the Estonian reply to the massive modern worldwide hits such as "Give me Love" by Ed Sheeran or even "Someone Like You" by Adele. Is that impossible to make an international career singing in Estonian. Otherwise, can you remain artistic faithful to yourself singing in English?
Of course it is possible, but as well, it's REALLY difficult. You must have big acquaintances in the music business of Europe and USA to make it! And of course, the more finance you have, the better!. But I hope I broke some little borders with Kuula
It's not about how many fans you have, but how many hearts and souls you can touch with your music! And the most important thing is to do the music you truly believe in and what makes you happy. Because if you don't believe it yourself, than the audience wont too!
13. Let's end up this interview with the classic question: plans for the future and any message for our readers?
To readers – thanks for your continuous support. It really matters. As for future – time will tell. I am working on new material, doing projects. I hope I'm evolving as a singer and an artist with every day. That's my goal, at least. Hope to keep in touch with all the people who like my music and Thank You for doing that! It means a lot knowing that there are people in the wide wide world caring about what I do in music! Thank You! And I hope to rejoice you all with some new songs in the future!;)
Carlos Carvalho for EOT