The host of 2014 this year send a young band to Vienna. Anti Social Media is the name of a band of four young guys, who sing a fresh and happy song "The way you are". The guys are really busy since they won the danish national final and just give few interviews as they are totally preparing already a new single which will be released before Eurovision.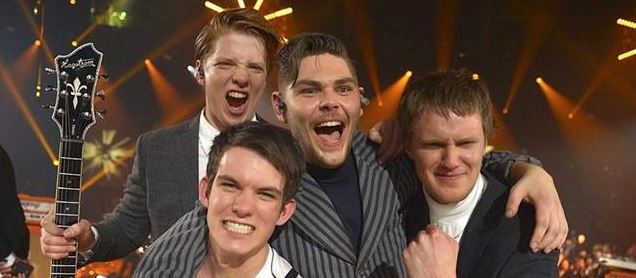 Eurovision on top feels honored to had the chance for a short interview and to get a special greating video for you - our readers. Read about the band, who the four guys are and some more details. We are very happy about the greeting video the band sends to all our readers, just have a look:
1. The Anti Social Media would you like to introduce yourself to our readers? Who or what is the group Anti Social Media? Who are the four guys of that band?
Anti Social Media is a pop/rock band inspired by the warm sounds of the 60's. Their mis-sion is to revive the simple and happy spirits of bands such as The Beatles, which leads to an all new combination of the old and the modern.
The band consists of 4 young guys: Philip on the vocals, Nikolaj delivering impressive gui-tar licks, David slapping the bass and Emil hitting the drums.
More than 2 million viewers followed the bands victory in The Danish edition of the Eu-rovison. As a result of their victory the band now represents Denmark in this years Eu-rovison in Vienna, Austria. Anti Social Media was considered one of the viewers' favorites in the Danish Eurovision even though many of the competitors consisted of wellknown es-tablished artist.
Anti Social Media is all in all a new, young and fresh contribute to this years Eurovision. Hopefully you will all be able to sense the passion and joy these young guys have for mu-sic, and maybe they will even be able to put a smile on your face - who knows? One thing is certain; Anti Social Media will do their best to make it happen!
2. In the internet there are not a lot of information about you guys. Even not on your official website http://antisocialmedia.dk/. What is the story behind that band?
Philip got in contact with Chief 1 (one of the composers) and Philip wanted to perform with a band and we all met in the studio to jam some songs. It was a magic moment actually!!!
3. What is the story behind your participation at the danish national final this year? 
That we had a great experience and have become friends for life!
4. Which link did you had to the Eurovision Song Contest in the past?
Mostly sitting and watching TV and seeing Brødrende Olsen and Emilie De Forrest win Eu-rovision!
5. Your style is a kind of Beatles. Why did you selected that kind of music style and not turned into a rock band for example?
Because it's the biggest rock band of history and we all love them!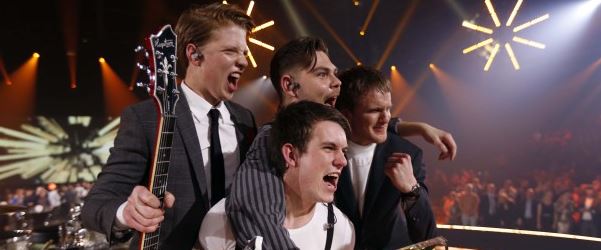 6. Be honest. Did you thought at that night you will win the national final? 
definitely NOT! 
7. What did change since your victory at the national final?
Well, now sites like you are suddenly interested in our band.
8. Did you have watched the Eurovision Song Contest last year? What was the highlights of last years contest for you? 
Yes, as it was held in Denmark - this was a big experience as the whole of Copenhagen Eurovisioned-up! 
9. Are you taking Eurovision serious or will it be just a hugh party for you? 
Of course we are taking it seriously - the whole of Denmark has given us our chance, and of course we take that seriously, but that doesn't mean, you can't have fun. This is also a fun experience for us. 
10. What are your plans for the time after Eurovision? Do you already have any musical projects? 
We are in the middle of recording an EP, that will come out soon. Check face-book.com/originalantisocialmedia for more details. 
11. Let's at the end speak a little bit about your song. What is the message of the song? 
Simple actually. To enjoy life, and remember to focus on the positive things. This is just exemplified through a love song. 
12. Who was the composer? And what was the inspiration for that song? 
Remee and Chief 1 - they are huge idols for us. We don't actually know, but we fell in love with it first time we heard it. 
13. This year Eurovision is celebrating the 60th anniversary. With which artist, band or singers of the past 60 years would you like to record a sing? 
ABBA! 
14. Do you have any special message to our readers?
Thank you so much for reading this! Follow os on instagram and facebook if you feel like it - a new single will come out before ESC.
https://www.facebook.com/originalantisocialmedia
Eurovision on top we be very aware about the new single and present this one to you, so that you can listen to it and vote it in our weekly charts. Anti Social Media, we thank you fo the interview and wish you all the best of luck for your way to Vienna but also for the musi-cal way afterwords, which you already started. And just stay "The way you are".
Pedro de Almeida