The Eurovision Song Contest seem to follow some own rules and to have a kind of must's which return every year even nobody is managing it. There has always to be a freak, there is alwaysa blond girl, a love song and a song dedicated to peace in the world. This year this song comes from Hungary. The country which in the last two years brought themselves again back to the top rankings, so that the first experts are expecting them to win in the near future. But if this kind of song will have a chance to bring for the first time the victory to Budapest, its a question. The end of the 80's and early 90's were the strong decades of peace songs at Eurovision, being crowned with the victory of Toto Cutugno in 1990 with Insieme. Never forgetting Aleluia from Israel in the 70's.

Very often the contest is seen as a show contests where no political statements aren't welcome or where no worries are welcome either. But the contest follows his own rules and the audiences at home use to vote spontaneous and very often with their hearts.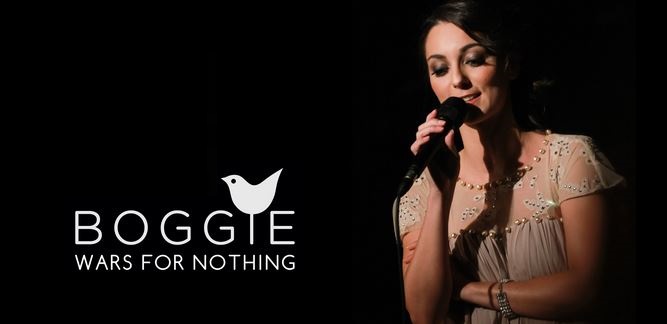 Boggie will represent Hungary and sing "Wars for nothing" in Vienna. And the only thing she will fight for will be the attention of the whole world for 3 minutes for her message and fore sure she will fight for each point.
Eurovision on top had the chance to speak to Boggie to get a better understanding about the targets and the message of the song and the idea behind.
1. Boggie would you like to introduce yourself to our readers? Who is Boggie?
I'm a Hungarian singer-songwriter. I have studied music since I was a child, I have tried myself out in several musical genres. I formed my band in 2009 since then I continuously give concerts in Hungary and abroad as well. Boggie is my stage name it comes from Boglárka and you can not find a similar name in any other language. I lived in Paris for 1 year as a babysitter. French music and culture inspired me a lot. My music is a great mixture of everything that I studied: pop, jazz, French chanson, country, folk, classical music... What I do is something that I call high-quality pop. I think it's really important to start to compose your songs because it defines your character and it helps you to find your own voice. In time you'll see that it was worth it. 
I released my first album in 2013. It includes my worldwide hit Parfüm/Nouveau Parfum 
This album reached third place at the Billboard.
My second album "All Is One Is All" has just come out at the end of October 2014 which includes "Wars for Nothing". I'm a happy wife and I have a cat and a lovely dog. I live in the downtown of Budapest.
2. What do you like to do beside singing? 
I like being around with my family and my friends. I like reading, learning foreign languages.
3. What was your first reaction after winning the DAL?
Emotionally I was so touched and I feel so blessed. I covered my face with my hands and I tried to not cry.
4. The title of your song seem to have a deeper meaning. What is the story of the origin of that song?
My song is a hymnic ballad which was created by three composers: Áron Sebestyén, Sára Helene Bori and myself. "Wars for Nothing" is a song from my second album "All is One is All" which was released on October 24, 2014. We have different background stories. I, personally, can be easily touched by any human's suffering and nowadays we have more and more of it near and far. All three of us would've liked to raise people's attention to this issue. I truly believe that through music we can make the world a better place.
5. The last time that a kind of peace song won the Eurovision Song Contest was in 1990 with Toto Cutugno. Do you think Europe is ready for a new peace song victory?
I think this message is really current in 2015 as well and I'm so happy that I have the opportunity to sing this song for Europe. Why not my song?:-)
6. What would you say to people who criticize the Hungarian entry as a boring peace song?
My song is really modest and minimal, that's how the message could be clearly communicated. I really like this minimalism in my song. I know that nowadays it's not the most popular way to express feelings because we are used to having more spectacles and bigger orchestration in a song. But a lot of people like this simplicity and can easily connect with "Wars for Nothing" and I feel so blessed to sing it in May.
7. Why do you think would your song have the potential to be the first Hungarian winning song ever?
I believe in the power of my song and I think every country has got the same potential as me to win. Simplicity, sincerity, credibility, purity: these are the most important qualities of my performance, that's why I could win the Hungarian competition. I truly believe in these values.
8. Why did you decided to participate at the DAL to get the chance of an eurovision ticket?
As a singer-songwriter I would love to reach more people with my music. This is the perfect stage to pass my message to a huge audience. I have known that I am able to help people by my music since my hit "Parfüm/Nouveau Parfum" and I feel the same about "Wars for Nothing". Music is more powerful than some people might think.
9. Did you have a special link to the Eurovision Song Contest in the past?
I really like a French singer from the 60s: France Gall: Poupée de cire: https://www.youtube.com/watch?v=s5aeeSmkPwQ
10. What is your target for Vienna?
My main target is to be professionally and emotionally satisfied with myself. I would be happy If my performance could be my best.
11. Do you have already plans afterwards Eurovision
Of course:-) I've just released my second album "All Is One Is All" which includes "Wars for Nothing". I continuously give concert as part of an album release tour in my whole country with my band. In autumn I'll also have a little European tour and I got a re-invitation from the US this year so I'll probably go back to the US this summer.
12. What do you think were the reason that the Hungarian's voted for your song?
I think people are fed up with fake-shows, meaningless and superficial performances and they really appreciate If they could have something pure and simple. That's why I got the majority of votes.
13. What is your all time favorite of all Hungarian entries at Eurovision?
I really love "Kinek mondjam el vétkeimet" by Friderika from 1994 and "Unsubstantial Blues" by Rúzsa Magdi from 2007.
Honestly, simple and clear: Thank you Boggie for this interview! Wish you all the best! We hope that the world stops to listen your 3 minutes and listen carefully to what you have to say.
Pedro de Almeida