Norway, the winner of 2009 and the second scandinavian country with a big passion for the contest. This year they made a great decision having a live orchestra on stage, a thing which was very well commented by all Eurovision fans all over the world. After the victory and hosting the contest the norwegian selections in 2011 and 2012 seemed to be week and didn't make good results. 2013 Norway re-started with strong performances, also in 2014 with a strong voice and a powerful song. And also in 2015 the scandinavian country returns with a song which takes his power not from the staging, but yes from the lyrics, the melody and the simplicity. The duet of Debrah and Morland was united for this song and the participation at MGP 2015. At the end it worked and Eurovision on top spoke to both to get to know better the singers, the meaning of the song and if they have any link to this contest. Read about that and other facts.
1. Morland would you like to introduce yourself to our readers? Who is Morland?
M: I was born and raised in a small town called Grimstad on the Norwegian south coast but I've lived in the UK for most of my adult life. I've always had a love for music and particularly British pop music has always been a big inspiration to me. In London I met some great friends which I formed the band Absent Elk with, we get signed, released the album 'Caught In The Headlights' and toured a lot around the UK. Now I'm working on my first solo album which I'm planning to release this autumn.
2. What do you like to do beside singing?
M: I write and produce music, which takes most of my time at the moment! Otherwise I really enjoy the silence in the outskirts of Oslo. 10 minutes from the city on the tram takes you into the middle of the forest – that's one of the things I love about the place. I also love design, which I have a bachelor degree in from London.
3. How did you come to the idea to perform together at the national final of Norway?
M: I wrote the song 'A Monster Like Me' as a duett and needed someone to perform it with. I remembered Debrah Scarlett from a TV show last year and I really liked the character in her voice. She suits the song very well.
4. What have been your musical projects and musical work before Eurovision?
M: I was the singer and songwriter of a British band called Absent Elk during much of my time living in the UK. As mentioned we released an album and got to experience lots of great tours, including being support for bands like The Script and Keane. We even supported Girls Aloud on their last arena tour, which was pretty insane! We played venues like MEN arena and the O2 in London and thinking back on it still only seems like a dream. I'm definitely gonna make sure I soak it all in when we stand on that stage in Vienna!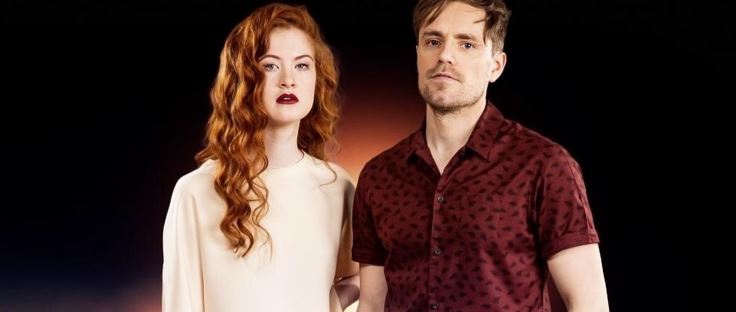 5. What did you think during the final voting of the MPG? Not sure if you looked surprised about the victory or not.
M: I was very surprised by the result – it was never in my thoughts that we would actually win the whole thing. I was happy to be picked as an entry and the goal was to be among the top 4 and get to perform the song one more time. When they read out the results it was so loud in the venue, which was why it took a little while for us to realise!
6. What is the special thing about your song at your point of view?
M: I think the song is quite different in many ways. It is very honest. At the same time It has something a bit theatrical about it, and there is a nerve in the mood of it that I really like. I also think the lyric can resonate with a lot of people out there.
7. What is your link to the eurovision song contest?
M: To be honest, I don't really have a personal relationship to Eurovision. I'm very glad to be a part of it now and I never imagined it was such a big show! We're so pleased with all the support we are getting from all over the world and really can't wait to perform in Vienna.
8. What are your targets for the eurovision in Vienna?
M: To do the song justice with the best possible performance. And to really enjoy the moment!
9. Do you already have any plans for the time after eurovision?
M: Yes. I am working on my album which I am planning to release in the autumn. I will be releasing the first single soon after Eurovision. At the moment it's looking to be a song called Clownfeet which I am very excited about sharing with you!
10. How will you promote your song during the next weeks? Are you planing to visit the very popular pre-eurovision events in Amsterdam or in London?
M: Yes. We are going to Amsterdam in a couple of weeks and we are also invited to another big event that we can't yet tell you about! Very exciting indeed.
11. What is at your point of view the deeper meaning of your song?
M: It's about facing up to your inner demons and confronting a dark secret from your past - something that has been haunting you that you never managed to talk about. You don't feel good enough for the person you are with because of what you have done and don't feel worthy of their love.
12. What could be the worst thing what could happen to you in Vienna?
M: I guess getting to ill to perform. But that's something we can't think about!
13. Which former eurovision artists are an good example for you or a kind of inspiration?
M: This is a hard question because I know very few Eurovision artists, but I guess Abba would have to be my answer.
In advance of the contest a lot of people handle this song as one of the favorites. The duet has a simple sympathy, the song has a special power and the Eurovision ever had his own rules. Eurovision on top will follow also this two singers, will see what the first reactions after the rehearsals are and will inform you about all that things. Don't miss our special from Vienna "Beside the stage" and follow Morland also after Eurovision through our website, where you can listen to the songs and also vote for them. But before that we will see, if the rest of Europe will vote for the actual so.
Pedro de Almeida