Headphones! This is the short description for the slovenian entree of 2015. The next thing most of the people will remember is the voice of the front singer and perhaps the woman playing the air violin. It is Maraaya! One of the favorites of the year 2015! What is a totally new role for this small ex yugoslavian country. Since 1993 they participate and the best score have been two times a 7th rank, one of them 20 years ago (1995) and the other 2001. The last decade slovenia mostly kept in the semi final. But perhaps this year that will change and Slovenia will be back in the top 10.
Eurovision on top had the great honor to meet Maraaya at the Eurovision in Concert in Amsterdam and we feel happy about the special greetings they send to YOU!
What is the name Maraaya standing for? What is the reason for the headphones and what will they do after Eurovision? Find out the answers to this and other questions in the following interview. Enjoy!
1. Maraaya would you like to introduce yourself to our readers? Who is Maraaya?
Raay: Maraaya is Marjetka and Raay, Marjetka is the singer and songwriter; I am producer and song writer. We are a couple of more than 10 years, we have two sons. Marjetka is also a pop vocal coach.
Marjetka: Raay is one of the most successful producers in Slovenia.
2. What do you like to do besides singing?
Eating, sleeping, although we are deprived of sleep lately (laugh). We try to spend as much time as we can with our two sons. When we have time we like to watch tv series, we like to go out in nature.
3. What is the meaning of your song for you?
Marjetka: The song is about friendship, I believe people can relate to the song. It holds a message about a true friendship, when you can count on somebody, when you are down, when everything is falling apart, that you know, that somebody is there for you. That gives people hope. It is nice to know that somebody can count on you and that you can count on somebody.
4. You get a lot of positive feedback from all over Europe. What do you think about that? This shows us, that we are on the right track. It means a great deal to us, that Slovenian song is so well excepted. Al this gives us additional energy for the preparations. We hope that people will see and feel all our music through this song.
5. Did you ever heard about being compared with Amy Winehouse? What do you think about it?
Marjetka: I heard a lot of comparisons that of course flatter me. With all the singers being mentioned Amy, Duffy, Adele, Paloma Faith it goes about the modern way of intimate interpretation and I of course am flattered to be compared to them, I never imagined that I could be. But I have to admit that every singer is special in it's own way and so am I.
6. What is the reason for having headphones on stage?
Marjetka: I use my headphones to revoke my emotions from the studio. When I am on the stage and performing with headphones I feel as if I am in studio. That's how I stay calm and it is easier to me to give people my true emotions. I was always wondering how to perform with the same intimacy and emotions like in the studio. When I found a solution – the headphones- It is just great. So the headphones became our image.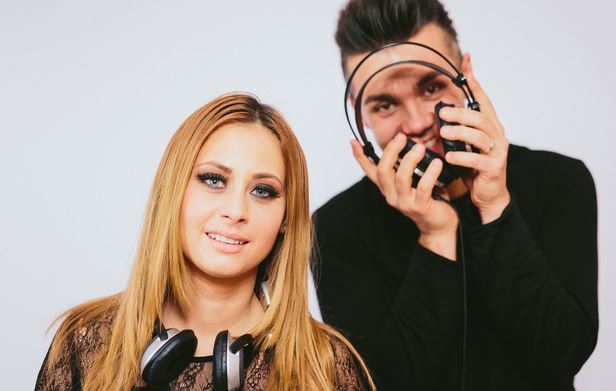 7. How will be the performance at Eurovision? Will there be the woman playing the air violin?
Raay: Air violinist is an important part of our show and at the same time an element that symbolizes a bit different music, a bit different thinking.
8. Slovenia never won the contest. What do you think is the reason for that?
Raay: The moment was never right, sometimes the year of our song was not right, sometimes we did not choose the right song, sometimes the competition was to strong. It is important to keep going, keep trying your best. I believe that even Slovenia can win one day.
9. Do you think that you have a realistic chance to win it and to bring for the first time the contest do Slovenia?
Slovenians are still not sure that we as a country can ever win, because of all the talk of smaller countries being disadvantaged. If we talk only of music yes, we have a chance, like any other song that has been noticed has. We hope that only music counts and that the chances are there.
10. Which link do you have to the contest?
In Slovenia there is quite a tradition to watch Eurovision with family and friends, and we watch it every year. For any musician this is a great opportunity to present your song to a broad audience of Europe.
11. Which is your all time favorite entree of Slovenia?
Marjetka: Of course last year's Tinkara Kovač, because Raay wrote the song.
Raay: Yes, the memories are still fresh, so yes it is my favorite entry, but beside that we loved Maja Keuc in 2011, Nuša Derenda with Energy and so on…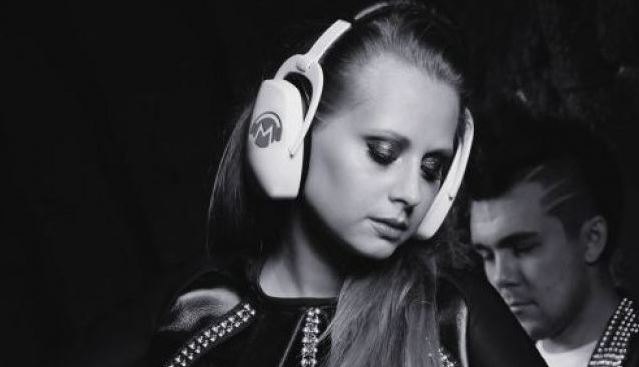 12. With which former Eurovision artist would you like to perform a duet?
Marjetka: It is har to say. Momentarely we have no one in mind. Maybe Lena.
Raay: It would be interesting to hear Alexander Rybak to play the violin part.
13. What are your targets after Eurovision? Already any musical projects?
We are planning the release of EP, we already prepared three singles for future. We will go our planned way. Eurovision is a stop in between for us. We will be promoting our music around Europe.
14. What would be the worst thing which could happen to you in Vienna?
The worst thing would be that we would be too late for all the good food at the opening party. (laugh)
Maraaya is not just a good duo on stage, but also in their private live. The couple are proud parents and they not just love the music, but also their family. Their sons will also be in Vienna for some days. Eurovision on top will be there too, to see if the favorite role will keep on Slovenia and how they will handle it. Maraaya will see if Europe will be "here for you" to vote for them. Maraaya, thank you for the interview and the video and we wish the best of luck.

Pedro de Almeida