The Makemakes are not the usual kind of Eurovision Artist. More easily we associate them to a rock Festival than to the Eurovision Song Contest. This ideia is pretty evident even in the way the answer our questions. Above all The Makemakes are all about music. And will music be enough to conquer this very specific song contest? Enjoy our conversation with the Makamakes and find out why they are so sure they won't come last... and why they don't want any Amadeus Music Award.
The Makemakes sent a special greeting to YOU!
1) "In 2015 Austria, the birthplace of Liszt, Schubert,  Strauss and Mozart, hosts the biggest music competition and it's represented by The Makemakes". Woud it be a good slogan for you or is it just surreal?
You forgot Falco!
2) You're a really recent band, formed in 2012. So this question has to be asked. Who are the Makemakes?
They are for real. Three friends, three musicians who live for their love for the music. We decided to go for the Eurovision-Oppurtunity. This pushes our career, this pushes our music. Many people get to know us, get to like our music. We will give our best at the show in Vienna! Could their be a greater honor than representing your own country?
3) Your debut single - 'The Lovercall' - (2012) was great success, #6 in the charts. Did it make you to take The Makemamkes in a more serious way?
The Makemakes were always serious, we always had plans. The charts came up after our warm up concert for Bon Jovi. We knew, we can make it to the international market. As we said before, our music is for real, it comes from our hearts, it's the only thing we wanna do. We had a strategy from the beginning on. Slowly, but perfectly, it works.
4) The video of 'The Lovercall' on YouTube, has the following question on the description: "Can one believe that they are from Austria"? What is the idea behind that question?
The nationality of our music is the universe. Austrian Popmusic suffers the stigmata of not being good enough fot the world. But theres a lot of music that's good enough for the world. Lately proven.
5) The follow-up single, 'Million Euro Smile', overtook the success of the debut by peaking to #2 at the Austrian charts. What is more important for you? The chart success or a good review?
Well the chart success is opening doors. It gets our music to the critics. Without success no critics who would even listen.
6) I would say that your sound has definitely a retro felling which is a big trend these days. Are you afraid of being taken as just a trendy product?
Well we set the trend, so that includes, we are trendy. That's not a bad thing. You cannot compare our songs one to the other. Each one is different, but each one shows how complex we are. You can expect this in the forthcoming album, will prove our diversity.
7) You will represent Austria after winning the national final with 78% of the votes. Is that a responsibility, a dream come true?
The big support from the people and such a huge fanbase of course is a dream coming true. Representing Austria at the ESC in Austria is an honor. But we don't see it as a pressure. We don't owe no nothing to nobody.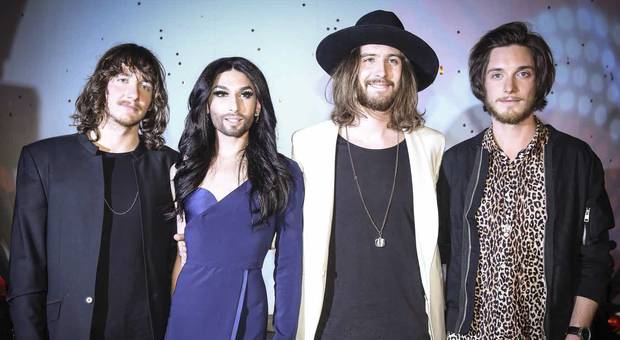 8.) How special is "I am Yours" in your discography. Are you afraid of being recognized as the band of 'I am Yours'?
No, we are not the band of "I Am Yours". This song is perfect, it's international, but it does not describe the Makemakes finally. Theres much more. We don't believe that really good bands can be described by one song. Just wait for our album and you will see how much more there is to hear and learn about us…
9) In the last 15 years Austria only made the top 10 twice, both with controversial artists (Alf Poier and Conchita Wurst). Are you afraid that the power of your song may not be sufficient to maintain Austria in the top 10?
Top 5 would be great and everything is fine for us. For sure we wont be last
10) Last week you posted a photo on your facebook page at the Amadeus Austrian Music Awards 2015. By this time next year in which categories would you like to be nominated for?
That's certainly nothing we wish for.
11) With 3 singles released, 3 top 10 hits, I presume that your debut album is on the way. What can we expect from it?
Expect our personal first chapter Rock history out of our point of view. A deeply personal reflection and bow to those who formed what we consider as "Classic Rock".
12) Although Austria has a long a rich musical tradition, since Falco (in the 80's) we didn't have another truly Austrian international star. How do you explain that and are you ready to turn the tide?
Well you forgot Udo Jürgens, Bob Dylan, Hermann Maier and Arnold Schwarzenegger… yes and of course our dad Christoph Waltz. So what the hell are you talkin' about?
Eurovision on Top:
From the 80's and up? What the hell are you talking about?

Carlos Carvalho