During this week it seemed that i would be one of the good once. It was the Junior Eurovision week, there was a big surprise announcement made by the german broadcaster NDR and we had an interview with Minus One. How the week ended and what the actual news are, you will be able to read our weekly report.
1. Do or Naidoo - how the internal selection turned into a scandal
2. Minus One - the exclusiv interview and special greetings
1. GERMANY - Do or Naidoo!?
On Thursday in the early morning there was a press release of NDR announcing the participation of Xavier Naidoo, a very known and also very diverse popular artist in Germany.
And it were the public reactions in the newspapers, from facebook posts, the national news show "Tagesschau" and also some political reactions that brought the NDR into to trouble.
There were statements about antisemitic and homophobe lyrics and statements at events. A kind of social and classic media shit storm started in the german press.
The last time the announcement of the german entree made such an media impact was Guildo Horn in 1998. Everyone was speaking about this decision, but at least a lot of people in a negative way.
It seemed to be a big thing and a clever selection of the national NDR broadcaster. But just after 2 days the responsible manager "Thomas Schreiber" announced the decision of the NDR not to send Xavier Naiddo to Stockholm. As the artist posted on facebook it was a decision made by NDR.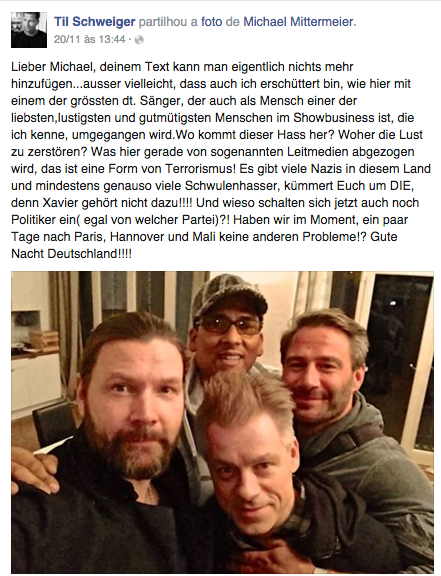 The statements of other known german artists, singer, comedians and actors on facebook speaking about the obvious friendships of Xavier with gay people, producing gay artists and telling that he is no racist didn't help at the end. The public statement and kind of judgement was made very fast and without any doubt or chance to Xavier to defend his self.
Also Jan Feddersen, the best known german eurovision expert got a lot of critic about his statements pro Xavier.
The event which stands for tolerance, connecting people, not judging but yes building bridges between different mindsets etc. turned into a radical judgement for an artist. May the so tolerant show turn in a self-judging jury, if someone is not 100 % fitting to the valued this event wants to stand for. And how valuable are this values, if they turn into the exclusion of public judgement of artists. Also in the last years there were critical news about Mans and Aram MP3 in 2014.
At least Germany has the second year in a row a Eurovision scandal. And there can be the doubt about other other german known artist being willing to participate at Eurovision. The Xavier case will let them think twice before accepting any proposal of the german broadcaster.
2. CYPRUS - Exclusiv interview and greetings
Minus one was presented this week to the OGAE Cyprus and we are also very happy to present the band to you too.
We made an exclusiv interview, which you can read here:
http://www.eurovisionontop.com/apps/blog/show/43647804-minus-one-we-will-do-our-best-and-for-us-that-is-the-advantage-
And here is the special greeting Minus One sends to all our readers:
Don't miss to read the upcoming weekly reports to get your quick update about the ESC2016!
Pedro de Almeida