Eurovision on top had the honor to meet the last dutch winner (1975) - the former front singer Getty Kaspers of the band Teach In and speak about her experiences, her success, where she went when she wanted to hide for some minutes, which recommendations she gave to Douwe Bob the dutch representative of 2016 and what her flirt secret was. Teach IN started as the No.1 into the contest and won 1975 the eurovision song contest in Stockholm. 
Here you can see the whole interview with Getty Kaspers:
Read here the complete interview:
1. Who was Getty Kaspers before 1975?
I was a little baby when I was born in Graz, Austria. Where I have been living with my fostermother. And with Regina the housekeeper, with whom I spent a lot of time. Because my fostermother was teacher and always away. And with Regina I was lot of times on her farm with animals...I was growing up in a very normal situation.  I was born in 1948 in a time Austria was building up after the second world war.  So it was a very poor time. Not so many things to have. I think that was the reason why I grew up with my feed on the ground.  For me it was ver important to have a lot of friends...and with 16 my real mother she came to Austria and after a lot of troubles I went with her to the Netherlands.
2. How was it when you came to the Netherlands?
So I was 16, when I came here I didn't speak and understand dutch. But I knew I can sing. I tried to come to a Band. I started to sing with 19. And we did it in the region, everywhere at weddings and other events. So I learned to sing on stage. It was a very nice time. At this time everything was possible with a lot of fun.
3. How was your start at Teach In?
In 1972 me and my partner came to the band Teach In. And we did the same. We had one song: "Fly away".
And we tried to find someone to work with us. It happened and the song became a big hit in the Netherlands, it was Top 5 in the charts. So it started with Teach In and after that we had a really nice song it was called "In the summer night" it was also number 3 in the netherlands and belgium.
4. How did you get to Eurovision?
Our record company asked us, if we want to go to the song contest. And we had this beautiful song, which was composed by Dick Bakker and we sad in the first place it will be our song. At the end it was our song. We won the song contest in Stockholm. And after that we had a year with a lot of traveling, less sleeping. It was a busy busy year.
5. How did you listen to the song "Ding a Dong" for the first time?
Yeah! They sent as a cassette. And only a piano version. And we said it must be the song for us. And it was so funny. You only have a melody. And from this melody you start the song. And it worked out.
6. How often have you sang "Ding a Dong" in your life?
I don't know. I really don't know. It has to be thousand of times. But it is funny. Because I always sing it with pleasure. It is a happy and funny song. Even for me, it gives me some joy. And avery time again, again and again. For me it is a beautiful song. I love it.
7. Who is Getty Kaspers today - 40 years later?
I am getting older. You can imagine. I was 27 when I won the song contest. I had a life it was always up and downs. I always tried to find out what is life what I am doing here. I had made good and wrong choices. And it was good that I made my choices. And that was good that I did what I did. You know you are growing and you have to grow as human being. And all my mistakes had to be. I had to make this mistakes to be the person I am today. And now I am happy. Because at the end I found the love / my partner for the rest of my life. I hope it will be a long time. Cor always wants to  be 100 years old. And I said I go with you, why not. I am very happy now.
8. Do you think winning the song contest changed anything in your life?
Of course! It changed a lot. You never before you do something. But after that the whole year was a roller coaster. The people think they own you and it is OK that they think it. But sometimes you need your privacy. You need to go somewhere, where they don't see you. It's a strong story but I did it. We have been in a lot of times in studios and places where I couldn't hide. And the only place where I could hide was the toilet. I was sitting there in the toilet doing nothing only thinking "I don't want to see anyone. I just want to sit here for 5 minutes. And then I am OK" I did it a lot of times. I think other colleagues do it too. Because it is the only place where you can hide.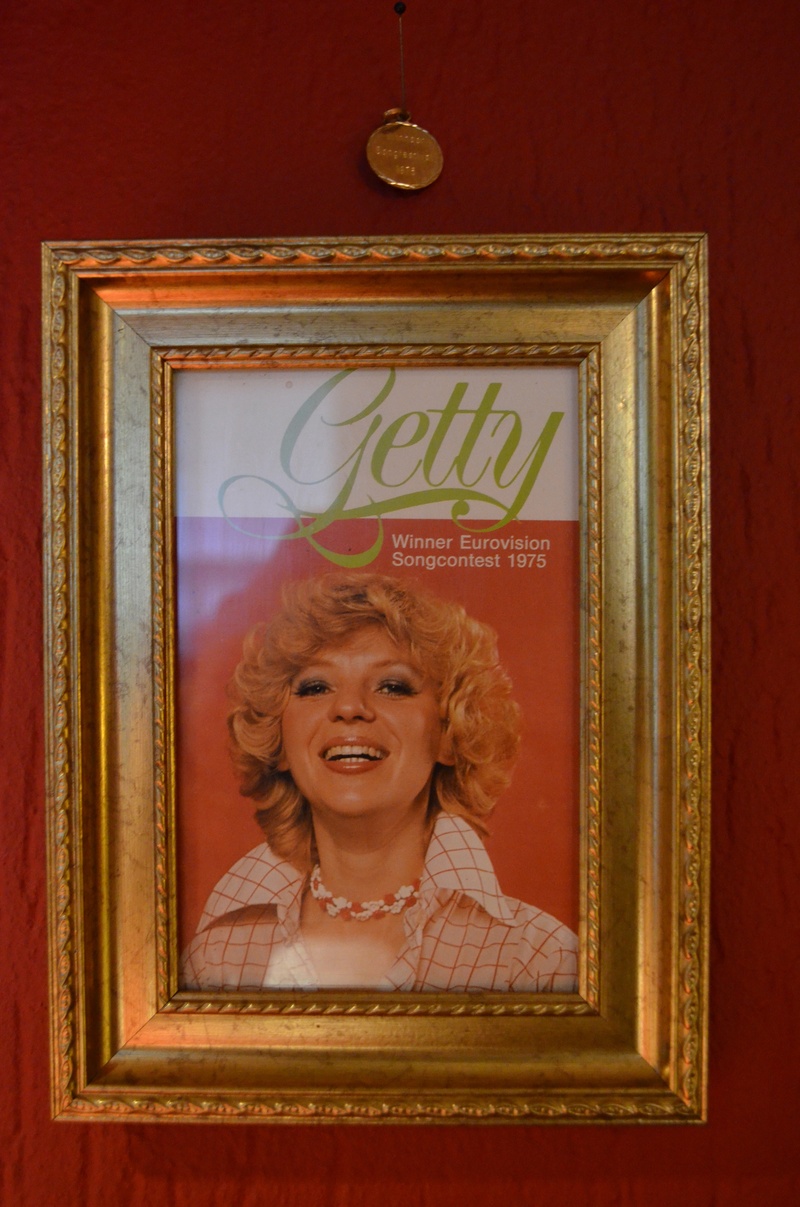 9. Let get to know Getty Kaspers a little bit better
Red or white wine?
fifty fifty - Rosé too. In the day it is rosé or white wine and in the evening a red wine and portuguese wine of course
beach or mountains?
It's the same. I was born in Austria so I like mountains. And when I came to the Netherlands I saw the sea for the first time with 19. It was fascinating.  Also fifty fifty
calm or choleric?
Sometimes I am calm and sometimes I am choleric. It depends on the situation. But since I am getting older I am a bit more quite.
coffee or tea?
Coffee!
city or country?
More country. I like cities, but more country.
potatoes or rice?
Thats difficult. Because I like very much chines food and indonesian food and that is always rice. Also fifty fifty I think.
warm or cold shower in the morning?
Thats very easy I think warm
Are you austrian or dutch?
I think also fifty fifty. Because my biologic parents are dutch but I was born in Austria. 
sweet or salt breakfast?
Normally salt
and know let check the eurovision taste of Getty...
Loreen or Lordy?
Loreen
Celine or Jonny Logan
Thats difficult...I think Celine
Abba or Teach In?
Abba
10. You have been in Russia. What was the reason and how was this experience?
A very special reason! "I am alone" was a number 1 song in Russia in 75. It wasn't a single in the Netherlands, but it was a single in Russia. Because the russian and dutch record company they had a kind of cooperation to share music between the two countries.
And the single "I am alone" became a number one hit in Russia, but they never saw us. And after all this years we have been in Moscow, the whole band. We have been at a very big evening show of an russian radio station. And we have been there to sing "Ding a Dong" and "I am alone" And then I saw how the people reacted. It was incredible. There have been more than twenty thousand people. The song was so special for them. And in the meantime they also got older like we are. And they have been dancing and singing. They are very very nice people, the russian people. I found them very nice people. And they were so happy to see us after all this years. So it was a very special thing to perform there.
11. How is it for you to see people sining "Ding a Dong" with you, 40 years later?
It's funny. I dont know how you call it in english but it is a "Ohrwurm" (earwig). All of the people are singing "Ding a Dong". A happy / funny song. And as I said I always sing it with joy. And I think that was the reason why we won. We had to start. We have been No. 1 - we had to start the sing contest. And we knew that we had a very good song. And it had to be a very good song. After all this years it still is a very good song. 
12. You won 40 years ago in Stockholm the contest, where the contest in 2016 will be hosted. How are your memories of this week in 1975?
You know it was very different. We went for one week to Sweden and we had rehearsals every morning. And that was all. But now it is very different, because there are more countries. In our time there were just 19 countries. So it was not so big. Now it is different. We had to come there and do our rehearsals and it was finished for the day. Maybe a little bit of interviews or something like this. But is was much more quite than today. This is the big difference. You can not say that 40 years didn't make a lot with the song contest. It is much more rowdy, its an other time. And now it is a little bit to rowdy for me I would say. 
13. What did you get after winning. A trophy like today?
It was not. I had a little bit of flowers and that was all. It was a song contest and the song writer and the composer they have been in front. We only have been singing what they composed. So it was different. It was a little bit different from now.
14. What did happen when you returned to the Netherlands after winning the contest?
I tell you. The airport of amsterdam was full of people! It was incredible. Like hundreds and hundreds  of people. Whole Netherlands was hoping that we will win the contest. And then we won. It was a big party in whole Netherlands. It was very nice. 
15.Was "Ding a Dong" No. 1 in the Netherlands after the victory?
No! We haven't been No.1 in Netherlands. But we have been No. 1 in France, what really was strange. But in Netherlands we have been Top 3. 
16. How many times have "Ding a Dong" been sold worldwide?
7 million times. It's a lot. In very different languages. From turkish, chines, japanese... I don't know. A lot of. But after that we had a problem like many groups have. Find an other song like "Ding a Dong"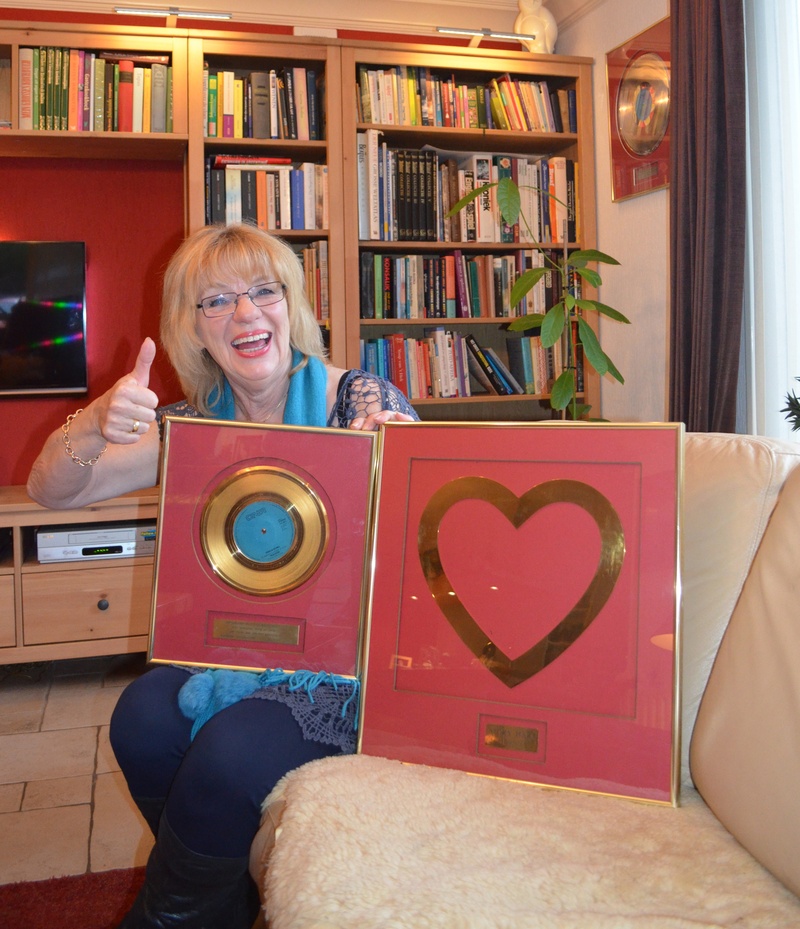 17. Have you met the queen after winning?
I met her not personally, but she was standing next to me. We have been invited to sing at the winning of Christina, it was the youngest daughter of Juliana. And we have been sining there and she was sitting next to us and clapping her hands. It was really funny.
18. What changed since 1975 at Eurovision?
Everything! Nothing is the same. It changed like every year everything changed. Also the song contest changes. At our times it was more calm. And now it is a big business. People aren't relaxed anymore, just running. Everyone hope to win but there are a lot of countries.
19. What today and in 1975 still is the most important thing to have in mind when the artist is on stage?
To stay very close to himself. Don't go out and think about others and what they think. What is important is what you think is important to do.  Of course the song is important, it is the most important thing. But I think together you have to be as one. The song and the artist have to be like one. I tjink you can go very far with that.
20. What about to flirt with the camera man?
How do you know that? I did it many times. It was my thing. Because I always said when I flirt with the camera man behind the camera it is like I am flirting with the people at home and I will reach the people at home in their living room. 
21. Let's talk about the dutch entree of 2016. 
Oh he is so nice. And he have a real dutch name "Douwe" it's a very dutch name. And he is a very good artist. He is a very young artist. He is 22. So is composing music since he was 16 or something like that.  And he was a very difficult child and perhaps thats a good thing. I was a very difficult child too. I think yo have to be like that to be a artist. The last time we have been with him in a concert - he is a beautiful guy and a very good musician - and he was wasking me about the song contest and I was telling him, that I could tell him a lot. But the most important thing I told him was that he has to stay with himself. Let other people talk. Take your decisions. The same about the song. He has to feel the song and go with that song. It's ok.
22. Will Douwe be able to win like you did?
I can't tell you. Because no one has heard his song. He said that he wants to wait for the right moment in the next year and then everyone can listen to it. It's his secret. Maybe... it would be nice. XXX You think it depends on the song? Of course! And he said the song is very good. So I trust him! He is a very good song writer. We all have to wait.
23. Any plans to support Douwe in Stockholm? If I go to Stockholm it would be nice because we won 41 years ago in Stockholm. We will see.
24. How was the experience to return to the eurovision community last year?
It was incredible! I couldn't understand why all this people came to me. There were more than twenty singers of last year. And then I came in and they all came to me and I told them that I already have won. And pointed out that there were a lot of artists waiting for the journalists. And then I recognized that they didn't have forget me after all that time. It was very special and really nice. I think it is like this because of this eurovision clubs in all the countries. This year I was invited to the club in Austria.
25. What are your next plans?
And now I have an other trip to make to Lisboa. And love Lisboa! I am very happy to go to Lisboa. Hope to see a lot of people at 12th of december in Lisboa and to make a big party.
26. Would you return to eurovision?
No! I think it is OK for one time. And if you won the song contest it is enough. There is only one guy, Jonny Logan, who won two times himself and the third time as song writer with Linda Martin singing. I think it would be not good to go there again. I still like the contest but now I feel like a little bit like the mummy of all this beautiful nice guys of all the countries of the eurovision clubs. I am the mummy of all of them. I don't go to the song contest any more to sing.
27. Your message to our readers?
Yes! I should say: the most important thing is health. Stay healthy! Love each other, love the nature and the animals. Love the song contest it is very important and I hope it will be a nice time also next year for everyone. The world have to be a better place. I wish you all the best also for the next year!  
Eurovision on top thanks Getty Kaspers very much for this exclusive interview and the chance to get to know Getty Kaspers and a part of her experiences. 
The best wishes for Getty and Cor.
Pedro de Almeida