They performed the song for the first time live on stage at the Eurovision in Concert, closing the event. And it was the biggest surprise of the night. The song in fact wins a thousand times being live performed by the three sisters. That's the final bit a powerful and potential winner song needs.
The three girls are smart, beautiful, talented and fabulous singers, no wonder that they won the Voice in The Netherlands.
Eurovision on top had the chance to get some answers to interesting questions. Read now what they say…
1. Why is it important for you to take part in the Eurovision Song Contest?
"We have always been Eurovision fans and sit on the sofa together as a family to watch it every year. So when you get the chance to take part yourself you've just got to grab it! We think it's fantastic that, at our ages – 22 and 21 years old – we get the opportunity to represent our country on such a big stage."
2. What are your expectations of the contest and of staying in Kiev?
"We are expecting a hectic but amazing experience. We've never been to Ukraine so we're very excited to be heading there! We're going to do everything we can to make The Netherlands proud of us and to bring the title back home. We also want to put a smile of pride on our mother's face. It's an acknowledgement, a kind of recognition, for all she has done for us and what she still means to us. We're so excited about it all!"
3. What is the song "Lights and Shadows" about?
"Home life for us and for many other people whose family situation has been disrupted by illness. Many people probably already know that our mother has been suffering from a serious illness for several years now. It's had a big impact on our family. We support each other through thick and thin but some sadness still remains. Our breakthrough and the stories we now have to tell bring moments of happiness for Mum. In "Lights and Shadows" we sing about how unstable life is for a patient as well as his or her family and of fighting with positivity and hope. Above all we try to give strength to people in this kind of situation."
4. What do you want to get across through your song?
"It is a song of hope that's meant to give strength to people who are ill – and their families. It is a poem to our mother and a shout of encouragement to everyone whose family situation is being disrupted by sickness. You've got to fight the fight with positivity and hope, enjoying special moments and appreciating each other. We're trying to give everyone a bit of strength to get them through."
5. The song was written by your father and Shelley's boyfriend. Have you also contributed elements to it?
"The most important things for us were that our harmonies should be prominent in the song and that it should have a beautiful message. To begin with, a writers camp was organised in which all kinds of songwriters and producers took part. We were on the selection committee and were amazed that so many songwriters had come up with so many beautiful songs. But in the end, it was "Lights and Shadows" that best fitted our story and voices."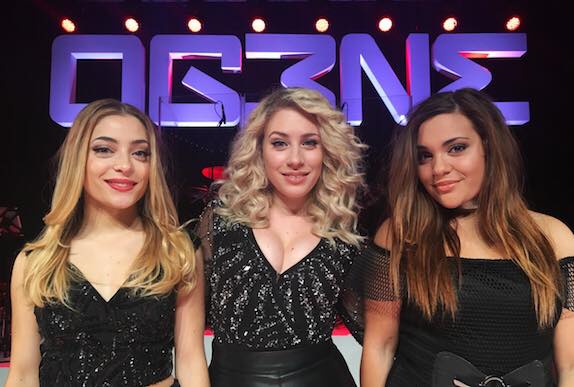 6. The source of inspiration for "Lights and Shadows" was your mother's illness. How did she react when she first heard the song?
"When Lights and Shadows was nearly ready, we all went upstairs and sat on Mum's bed. We sang it there for the first time. It was such a special moment. She is unbelievably proud of us and always beams when she hears the song."
7. What can you tell us about your act?
"Straight after the song was chosen, we set about building a team around us. We really wanted to leave nothing to chance. We've now got an excellent team of managers, directors and creative specialists from every field. 'Phase One' saw the launch of the song and the video but we're now busy stepping things up to a whole new level for Kiev. Phase One was a taster. For the rest, you'll just have to wait and see…"
8. What does OG3NE stand for?
"The 'O' is our mother's blood group. 'Gene' is for the genes we share. And, of course, '3' is because there are three of us!"
9. What have been the best moments from your career?
"In spite of our young ages, this year we'll be celebrating 10 years together as 'artists'. Throughout this time there have been many moments we cherish. In 2014 we were the first group to become winners of 'The Voice' and that's when OG3NE came into being. We got our real breakthrough in 2016 through the 'Beste Zangers' TV programme. Every week we could demonstrate what OG3NE really stood for: three sisters singing in harmony. The period in the run-up to the Song Contest has also been extremely special and something we've not experienced before."
10. You took part in the Junior Song Contest. How will this experience help you in Kiev?
"Taking part in the Junior Song Contest ten years ago as Lisa, Amy and Shelley made a big impression on us and it's something that we still cherish to this day. For three small girls, everything just seemed even bigger and more amazing. Whether it will help us in Kiev or not, we just don't know but every experience makes you stronger."
11. What is your favourite ever Eurovision song?
"Waterloo by ABBA, Fairy-tale by Alexander Rybak, What's Another Year by Johnny Logan, Rise Like a Phoenix by Conchita Wurst."
Thanks for this answers and it will be a pleasure to see the ladies again in Kiev!
Pedro de Almeida