Every year we pay attention to iTunes to see immediate sales and trends regarding Eurovision songs. We do it every year, on the morning of the day of the grand final. This year, there were no finals or a grand final. There was just the show we were able to see last night. Still, the charts responded, despite the 30 seconds of each song. We consider iTunes and in countries where this platform is not used, we look at the youtube trending chart. Why iTunes? Because it has updated charts, a big representation and is easy to consult. It is still better for this type of work than Spotify. So it is a type of immediate trend that can show what caught the attention of the audience last night.
And the surprises would have been many!
• France's surprise since it was one of the least rated by fans.
• Sweden continue to score points by qualifying well.
• Switzerland and Belgium that would effortlessly reach the Top 10.
• Perhaps the UK's best rating in years.
• The highlight given to Serbia!
The unsurprises were also clear:
• The first semifinal stronger than the second.
• Spain going unnoticed.
• The victory of Iceland or Lithuania.
This is the ranking we made, based on the number of countries that a song is charted, the peak position in a chart and the number of times that a song charted in a TOP30.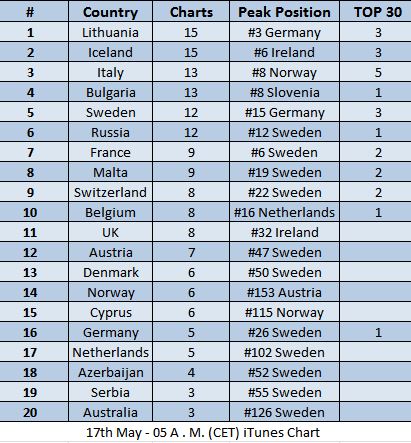 But after all, who won or lost Eurovision 2020?
With the betting exchanges stopped, without trials and performances, we can remember that in recent years there have been no surprises. Bulgaria, Lithuania, Switzerland and Iceland were already standing out in the bets, would they continue?
For the INFE fan club Iceland would win; for the biggest fan club, OGAE, won Lithuania. On the charts, the victory would be between Iceland and Lithuania. Since there have been no surprises in recent years, the only surprise would be if these two countries that never won had not seen their first victory!
Contrary to what you tried to get through last night, there will have been more losses than gains. Producers, musicians, singers, authors, choreographers and managers, among others, were unable to show themselves during their minimum of 3 minutes and only had a maximum of 30 seconds. And no, they didn't all win! Eurovision 2020 was canceled and with it, the dreams of many who have been preparing for months. In the 21st century we could have used all the technology we had available, but this ESC that did not happen served to verify that after all Salvador may be right, and after all, fireworks are the most important, at least since Eurovision became commercially on a brand.